by Andy Ward
Clothing brand Velobici is putting the English city of Leicester on the map of the cycling world with its range of locally designed and locally made kit. Chris Puttnam began Velobici to provide high end cycling kit using the expertise of the region's recently reviving textiles industry.
I tested the Van Chilli jersey. At £150 ($224) you expect something special and initial impressions are very good. The fabric is described as "medium weight"- it feels thicker and heavier than a standard jersey. It has a matte finish, which gives it a classy look combined with the silver embroidered logos and reflective piping on the hems and tops of the pockets.
A full length zip is a welcome addition, especially when combined with a soft chinguard and the cool chain-ring zip puller. The rear pocket design is something of a Velobici trademark. Higher on the left, with room for a pump, the pockets swoop down to a smaller, easily accessible hip pocket with room for a phone or energy bar. Two waterproof zip pockets complete the storage options.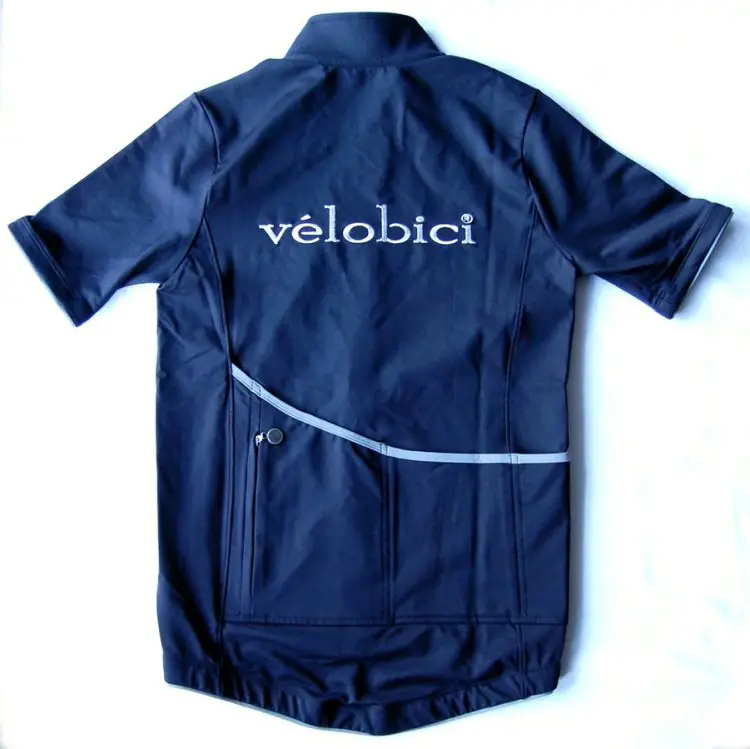 Velobici Van Chilli Cycling Jersey. © Andy Ward
All and all, the quantity of products that a rider can fit into the products could equate to a feast, and the Van Chilli is designed for hungry cyclists who like the option of carrying along a buffet.
In use, the quality of the jersey shines through. The soft, stretchy fabric makes for an excellent snug fit, with good silicone grippers on the sleeves and bottom hem. The breathable fabric is water resistant and provides a good level of wind-proofing. Combine with a base layer and arm-warmers and its good for spring and autumn rides or cold weather racing. Add a gilet or a waterproof jacket and winter's covered. Stick it over a skinsuit and it's ideal for warm up laps. I used the jersey on several off-road and gravel rides, putting it through some seriously filthy conditions. Here the jersey's durability came to the fore: Repeated heavy duty washing had no effect on its pristine feel.
This is an expensive jersey, but it feels like it ought to be. The use of local factories allows Velobici an attention to detail and a level of hands-on quality control that's obvious in the finished item. Although the thicker fabric means that it feels a bit weighty, in the end, the combination of good looks, durability and comfort mean the Van Chilli has become my favorite jersey.
More info: velobici.cc