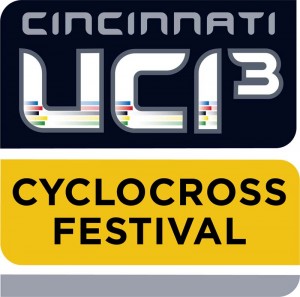 Katie Compton doesn't mince words in her praise of the UCI3 Festival.  "This will be our fourth year attending the Cincinnati three day cyclocross festival, there's nothing like it in the world," says Compton of the Festival which this year takes place October 8-10. "A mix of fun courses, great race organization and that final ingredient that makes this sport thrive: great people racing their cyclocross bikes."
This year, Compton will focus more exclusively on the European calendar and compete in fewer American races as she tries to minimize the effects of physically exhausting and expensive mid-season flights across nine time zones. But, according to her manager/coach/husband Mark Legg-Compton, Cincinnati is an important goal for both short-and-long term reasons. "Cincinnati's UCI3 Cyclocross Festival is the gold standard for establishing equality in men and women's racing," he says, referring to the world-leading $10,000 in cash prizes being offered to the women over the course of the weekend (altogether, over $30,000 in cash and merchandise prizes are posted for the festival). "It's important all of us support their commitment to the sport for riders like Katie Compton, and riders who are the future of the sport like Kaitie Antonneau. Katie is the most successful American in the sport, and Cincinnati is an important part of Katie's success."
Legg-Compton lowers his voice a little as he reveals another reason they're targeting the races in Cincinnati. "If Katie is able to win all three days," he says, "the third day win will mark Katie's 45th UCI Cyclocross win." Quite an accomplishment, especially considering Compton famously didn't even compete in UCI races until 2006 because of her Paralympic commitments to blind tandem teammate Karissa Whitsell.
Katie interjects with another of her own reasons why she likes coming to Cincinnati. From heckling back at hecklers mid-race until they offered the right kind of beer hand-up, to raising money for dog rescues through her clinics, to being a role model and mini mentor for possibly more adulating pre-teen girl cyclocross racers than any other region in the country, Compton clearly just flat-out loves the event. She smiles as she says, "Last year's muddy race on the first day was not only one of the most fun races of the season, but it helped me prepare for the challenging courses in Europe."
It's also one of the rare chances that Katie can swap places with her husband and pit for him in big races. "Yeah, I'm going to race too," says Mark, who has represented his native New Zealand in the World Championships.  "Unless it's really muddy again, because I'll have to focus on keeping Katie's equipment clean and ready."
A great number of amateur competitors feel the same way about the UCI3 Festival as Katie and Mark do. Nearly 2,000 entries and a number of sold-out classes are expected, so it is recommended to advance enter on BikeReg.com, rather than waiting to enter on race day.  However pre-registration for the Cincinnati UCI3 Festival closes Tuesday, October 5.  For more information on the UCI3 Cyclocross Festival, see www.cxFestival.com.