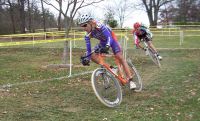 By David Hutton
Twenty degree morning temperatures didn't keep the racing action from heating up in Hendersonville, NC for day one of the North Carolina Grand Prix of Cyclocross. The fast, flowing course on the grounds of Jackson Park had a stretch of rooted double track, and a steep hill that forced many riders off their bike throughout the day's racing and made for a great venue for extremely competitive UCI racing.
Elite Women
The elite women lined up 15+ riders for the days racing. Tactics played a huge roll in the days racing. Ally Stacher (Lees-McRea College) took the whole shot and lead for the majority of lap one. On the second lap Nicky Dallaire (Sobe- Cannondale) took the lead where she stayed for the majority of the race. Behind, a chase group of five riders chased with Kym Flynn (Vantaggio-Specialized) and Deb Whitmore (BMW-Bianchi) doing the majority chasing.
Going into the bell lap Melanie Schwartz (Velo-Bella) showed the legs she had saved riding conservatively in the chase group, and rode across to Dallaire. Passing Dallaire, Schwartz put hammered to the solo finish ahead of Dallaire. Stacher rounded out the podium in the four way battle place for third place.
Elite Men
The elite men's race saw a talented field roll to the line with slightly warmer temperatures setting the tone for the day's racing. Jeremiah Bishop (Trek) pushed the pace early splitting the field and establishing an eight rider group at the head of the race.
Bishop showed his cards throughout the race with several attacks that were brought back. It was clear he had a win on his mind. John Baker (Vitamin Cottage) seemed to be the most anxious to work with Bishop throughout the race.
As the race progressed through the warming temperatures, the steaming race pace shed rider after rider from the front group until it was down to four riders; Bishop, Baker, Bart Gillespie (Monavie/Cannondale) and Russel Stevenson (Redline Bikes). Exchanging blows on the final lap, the field still remained together and it appeared the finish was going to come down to a sprint.
With Bishop leading up the final steep pitch and through the final turn of the course onto the paved finishing straight, Baker and Gillespie bobbled, opening the door for Stevenson to open his sprint. Bishop took the win with Stevenson coming in a tightly contested second. Baker was the quickest to recover from his slip and finished the day in third.
Day 2:
Sunday's racing will see slightly warmer temperatures and even hotter racing. Check back soon for photos and updates from Saturday and Sunday's racing. Full results can be found courtesy of pre-reg.com here.
Photo Gallery:
Race Results:
1 Melanie Swartz Velo Bella – Kona Reston, VA
2 Anna Jean Dallaire SoBe-Cannondale Louisville, KY
3 Catherine Walberg TREK Topeka, KS
4 Cara Applegate BMW-Bianchi Black Mountain, NC
5 Julie KulieczaALAN North America Cycling Richmond, VA
6 Deb Sweeney Whitmore BMW-Bianchi Sylva, NC
7 Ally Stacher Lees-McRae College Banner Elk, NC
8 Kimberly Flynn Vantaggio/ Specialized/ SCV Hixson, TN
9 Kristin Jo Markham Lees-McRae College Banner Elk, NC
10 Lauren Franges Team Tibco Asheville, NC
11 Melanie Black Moots Arden, NC
12 Natasha Cowie Sycamore Cycles Boulder, CO
1 Jeremiah Bishop Trek/Volkswagen Harrisonburg, VA
2 Russell Stevenson Redline Bikes Seattle, WA
3 Stephen Tilford Trek Topeka, KS
4 Bart Gillespie Monavie/Cannondale Salt Lake City, UT
5 Nathanael Wyatt Carolina Fatz pb Santa Cruz Bicycle Asheville, NC
6 Travis Livermon Cannondale / CCN Winterville, NC
7 Jake Wells MafiaRacing.com/Pabst Avon, CO
8 Charles Pendry Inland Construction Cycling Team Hays, NC
9 Michael Gallagher C3-Sollay.com Chambersburg, PA
10 Eric Thompson Lees-McRae Shoreview, MN