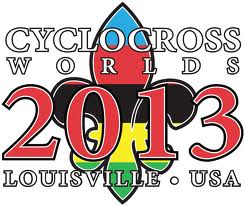 For full coverage, schedules and information on the 2012 UCI Masters Cyclocross World Championships in Louisville, Kentucky visit our 2012 Masters Cyclocross World Championships homepage.
Masters racer Doug Reid, of cyclocrossracing.com, shares his experiences getting to Louisville and the first qualifier.
Wow, I'm whooped! Someone forgot to remind me that when you fly East you lose time, the longer you fly the more time you lose and it's compounded by having multiple connections and by … flying even further East. To save money on my flight, I flew into a neighboring city but driving three hours after flying all day was rougher than imagined. Woke up my roommate to get into the room. Then, after a day of being in motion, my body may have been exhausted but my mind was still in motion too so after a couple of hours of laying there, I got up to build my bike. Long night, little sleep, but my race was going to be no more than 30-minutes — sleep not required.
The course was a mess as I'd heard it would be, but there was no time to frown as we were running late: had to mooch a trainer, pin the numbers, deflate some tires to the appropriate psi, and hopefully have enough time to warmup. We'd worry about the stuck in the mud rental van after the race.
Two laps. Two laps was all we were doing as our call-up qualifying race. There were about 35-40 of us on the line and I was two rows off the front, not bad, as good as a front row call-up. The strange thing going on was that I wasn't nervous in the slightest, no jitters. No worries, so did I care, would I have the desire and heart to push the pain? Boom! By the first corner I was in the front row and by the third corner I was sitting third or fourth wheel. This was easy, I thought, but that thought quickly changed when at about the fifth corner we hit deep thick mud that was also incredibly slippery. Speaking of slipping, my position did just that and at the end of the first miserable lap, a good third of it running, I found myself in around 10th.
The encouraging part of my "race" was that on the flat, unmuddy sections I'd easily close 20+ second gaps and I felt strong and spry, but in the mud I was crap and it's true, I didn't care, I didn't have the heart, but I did this knowing that this was just a race for start order, so why hurt now when I can save it to hurt even more later? Logic isn't always sensible when you're in the middle of a race. I'm fooling no one here: it hurt like hell!
Not long after the race the temps plummeted, very quickly, and as I was still lounging in my muddy skinsuit I felt the cold very immediately and intimately. Blasted the bike with a pressure washer, then blasted straight out of there for the hotel. Well, once we got the rental van unstuck … which took the assistance of a John Deere tractor.
My start number is 15 for the real race day, row two, exactly where I want to be: the Worlds eyes will not be upon me and therefore much less pressure. Tomorrow is an off-day and given tomorrow's weather forecast I'm thankful, though Saturday's racing conditions might not be any bit improved. The plan is to meet up with teammates, delve further into this World Champs "scene," and soak it up!
Stay tuned for more from Doug Reid.