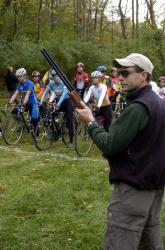 The Mid Atlantic and Ohio Valley Area have some unique fun in store for races this weekend. See the press releases below.
Zipp OVCX Tour Returns to Cincinnati with a Bang

Miamiville, Ohio, USA: Golfers are familiar with the term "Shotgun Start", but they've never had, nor heard, anything like this. Following a month of UCI racing in Ohio and Kentucky, the Zipp OVCX Tour returns to the Cincinnati area for the second half of its 2008 season on November 2 with the Gun Club Cyclocross. Held at the Sycamore Pheasant Gun Club in Miamiville Ohio, it's not hard for spectators around the course to determine when the action has begun. The event traditionally starts each race with a blast from a 16 gauge over-under shotgun. Presumably, the shotgun start eliminates jump starts as well.
"When we say hole-shot, we mean hole-SHOT!" laughs race promoter John Gatch, "the Voice of the Zipp OVCX Tour." "But the shotgun start isn't the only special thing about having a cross race at a gun club. The Gun Club Race sets the standard for hospitality with amenities such as bike wash, showers, and a huge lodge with a fireplace and a projection screen showing cyclocross videos. And then there's our famous concessions, where one can gorge on grilled meats, sweets, fruit and coffee with all the proceeds going to support the St. Thomas Episcopal Church's youth group Journey to Adulthood. The course ain't too bad either from a racing and spectating standpoint."
Just don't step over the line, the starting official has another shot in that gun.
For more information and pre-registration for the Gun Club Cyclocross, see TrueSport.com at http://www.racelistings.com/register/events/flyer.asp?ID=836.
_____________________
Track and Treat Halloween sMACdown in Maryland
Conshohocken, PA, USA: The Cecil County Fairgrounds at Fair Hill Maryland, just west of Newark Delaware, is the scene of the Wayne Scott Xross this Saturday, November 1. Taking advantage of the race's non-UCI status and the race's proximity to Halloween, the organizers are loosening up the vibe a little and offering warm place to stay cool at the MAC Powered by SRAM Series event.
The Fairgrounds at Fair Hill offers some course features that are unique in the MAC. Not only will the race go through the "haunted" barn as in past years, it will also pass through an even more terrifying building – the Heckle Hut. While other races around the country have occasionally routed their courses through barns and other buildings, it's safe to say that nobody has ever seen anything quite like the Heckle Hut. A large barn-like structure that's used for craft and commercial displays during fairs, the building will turn into something of a nightclub with DJ Jon Gill cranking his sets of "Boombox in a Blender" and Big John's Barbeque serving up his family's famous grilled fare. Of course it wouldn't be Halloween without treats, and the grown ups will be treated to free beverages, at least one of which will have a "Harvest" theme. Passing through the middle of all of this will be the track itself. And, as if the prospect of racing into an indoor cauldron of grilling meat, electronica music and comfortably hydrated teammates and strangers isn't daunting enough, "There will even be a second set of barriers in the hut to allow for better heckling," said lead organizer Jan Kolb.
One of the things that may provoke heckling will be the costume contests. As if many of the racers could possibly wear something more frightening and unattractive than brightly-colored spandex, a merchandise prize will be awarded to the best costumes in the riding and non-riding categories. Grown-ups won't be the only ones getting treats in the Heckle Hut, as racers and teams will be bringing candy to distribute to children that come to watch the races.
And the races themselves should be impressive. Despite the race's non-UCI status and Heckle Hut (or maybe because of them), the competition for the MAC Powered by SRAM points should be intense. The series' first non-UCI race drew nearly 500 entries, and historically the MAC points championships have often been won and lost at the series' non-UCI races, especially in the Elite Classes. Patty Buerkle and Wes Schempf are coming off impressive wins at last weekend's races in Washington DC and figure to be the pre-race favorites this weekend.
For more information and pre-registration for the Wayne Scott Xross, see BikeReg.com.
_____________________
BikeReg.com MABRAcross Rocks Rockburn Sunday
Officials at Howard County Maryland's Parks and Recreation Department wanted more people to enjoy their award winning parks.  Matt Brancheau of Kelly Benefit Strategies/Lateral Stress Velo wanted a place to promote a cyclocross race.  So, when Brancheau showed up at their offices, Parks Officials heard more than a guy with shaved legs knocking on the door, they heard opportunity knocking.  Seizing that opportunity, Howard County Parks and Recreation became the first governmental agency in America to be actively involved with the promotion of their own cyclocross race.  Last year's inaugural race exceeded expectations in nearly every way, but was merely an appetizer for the Kelly Benefit Strategies Cyclocross at Rockburn taking place this Sunday, November 2.
Now part of the mighty BikeReg.com MABRAcross Series, the upgraded race at Rockburn Branch Park has made upgrades across the board, with more prize money, more food (including prize pies) and a redesigned course that keeps the character of last year's popular layout, while bringing the action closer to spectators.
On-line pre-registration at BikeReg.com closes on Halloween Night at 11:00.  Prospective participants are urged to pre-register early to avoid the trick-or-treat of potentially sold-out classes.