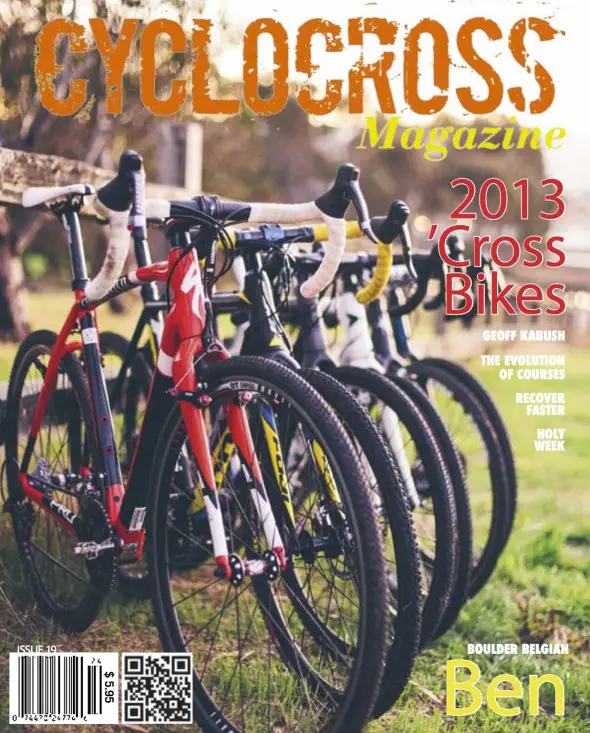 Check back often for more sneak peeks of some of our favorite feature articles!
Table of Contents
Louisville or Bust: Looking Ahead to the World Championships
by Rob Carver
Lose Yourself: Getting Psyched for the End of Season Party
by Joe Bellante
SNEAK PEEK: A Belgian in Boulder
by Chris Bagg
Plowing the Field: A Look at Cyclocross Courses Over the Past Century
by Dan Werle
A Crusade of Costumes, Clydesdales and Cyclocrossers: Through the Lens
of Brian Nelson
Geoff Kabush: More than Just Mutton Chops
by Molly Hurford
Postcards from Holy Week: New England's Own Festival of 'Cross by Molly Hurford
DarkCross Photo Special
Inside the Gilly Zone: Words of Wisdom from the World's Most Generous Fan
by Robert Carver
Illegal Contact: Two Men, One Line, A Host of Consequences
by Max Kirchoff & David Boerner
Recovery Rules: 6 Tips to Stay Fresh Throughout the Year
by Ian McMahon
Quick and Dirty Interviews: Nikki Thiemann & Lance Haidet
by Molly Hurford
Bike Review: Fuji Altamira 1.3
Bike Review: On One Dirty Disco
Bike Review: Marin Cortina Disc
Bike Review: Tuxedo Neon
Bike Review: Specialized Crux Pro
Bike Review: Foundry Auger
Bike Review: Jamis Supernova Team
Like what you're seeing? Make sure you're subscribed to Cyclocross Magazine (subscribe digitally to receive Issue 19, or order it in the archive section of our subscription page).