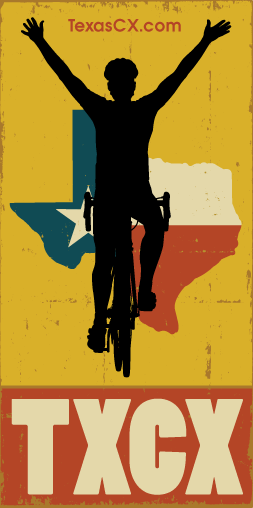 by Daniel Curtin
A recent transplant to Texas has written a couple of editorials for this publication. An experienced cyclocross racer, instructor, and race promoter, moves to Texas from a hotbed of cyclocross somewhere North of the Red River. Probably going to take over and runaway with the Texas Cup. Me? I'm well-versed in Texas, having been born and raised here and having lived here for the past six years after a brief stint in — ahem — New York City. I am, however, completely new to cyclocross and, basically, bike racing in general. But that hasn't deterred me one iota from falling for cyclocross and deciding to take on my first 'cross season here in the Lone Star State. While our new community member can give the real racer's perspective as our season gets underway, I'm hoping to tell you a bit about 'cross in the land of football as I try to convince myself that I must have some sort of home-state advantage.
Getting my first 'cross bike and learning and practicing skills aside, I figured if I'm going to do this, I need to learn a bit about how it all works and what I can expect getting into this beautifully brutal sport. I reached out to the Texas Bicycle Racing Association (TXBRA) cyclocross coordinator, Joe "Joey Two Wheels" Doyle, Austin race promoter and TXBRA president Andrew Willis of Holland Racing, local racer and pro wrench Craig Virr, and race official and current TXBRA treasurer Bonnie Walker to get the low-down on all things cyclocross in Texas. And Mark, you can thank me later for all this insider information by not laughing at me too hard during my first season!
Joe, let's start with you. What is your 'cross background?
JD: I first heard of cyclocross in 1999. I was contemplating joining a racing team—xXx Cycling in Chicago—and people were talking about some Super Cup series that used to happen in the city parks. The off road nature appealed to me as I loved to MTB and cruise the lakefront parks. I started racing CX soon thereafter. We had fun in the mud, but often had to travel a few hours to Michigan, Wisconsin, and Indiana to race. So I decided to start the Chicago Cross Cup to bring events close to home. The first couple of years were great—volunteers from every host team came to The Handlebar for bi-weekly meetings. We became a group of good friends all dedicated to making it happen. We got permits issued at non-profit status (by having an "in" with Da Mayor) and once we had the parks it was on! Now I live in Austin with my family, and I race here and help promote CX in Texas as the TXBRA Cross Coordinator.
How did you get the TXBRA CX Coordinator gig?  How's it going?
JD: I was picked! Several people raised their hands, but the board of directors at TXBRA chose me to help out. I enjoy facilitating the conversation among the promoters. There have been some sticky points — everyone thinks their races are the best. But truth be known, Texas cyclocross is still in it's infancy and there is a lot of room for new promoters to make a name for themselves with killer course designs and overall event atmosphere. I'm trying to help foster that.
Bonnie, you're a big part of TXBRA and many if not all of the racers around here at least know your name, if they don't downright know you.  How did you get here and what exactly do you do around here anyway?
BW: I'm a former road and track racer who officiated occasionally when I wasn't racing. Eventually I got too busy with work and didn't have the time to train seriously anymore, which also made racing a little bit harder!  I'm a transplant to Texas. I grew up in Pennsylvania, went to college in Arizona, and was recruited out of college to work for Shell Oil in Houston. What I do is with TXBRA is a little bit of everything. Officially, I'm currently the TXBRA treasurer, as well as being responsible for assigning officials for each race, processing race permits and post-event paperwork. I am also the Local Association Representative to USA Cycling for TXBRA. Think of that kind of as the middleman for race related items in Texas.
Craig, you're a bit of a fixture when it comes to Texas cyclocross. Many folks that I've run across recognize you as their introduction to cross.  What's your story?
CV: I'm a born and raised Texan. My father got me into riding when I was in junior high and I rode more than just for transportation. I was a bike shop junkie growing up and finally, when I was 15, I was in the shop enough that they just hired me to clean the shop after school.
That first job in the shop exposed me to 'cross and I was always a fan (Thanks, Marty at Bicycle Sport Shop!). Wrenching started when I was about 18. Another pro wrench taught me the ropes at an early age. I don't do it full time but still enjoy it very much. Definitely part of me.
I started racing 'cross when I was 18 and it's still my favorite discipline.
And Andrew, you're a born Texan too. What's your cycling story?
AW: I was the fat kid. I got picked on a lot, which made me shy away from school oriented team sports. I started cycling at age 12. I was inspired by Lemond's winning of the 89 Tour de France. I lived in a small South Texas town. The only way I knew about Lemond was that I was in the Boy Scouts and got a copy of Boy's Life magazine. There was an issue that had Lemond on the cover and a full feature story. I thought it was the coolest thing ever. I must have read that article 10,000 times.
I wanted to race bikes so bad, but our family didn't have any money. I started mowing lawns and saving my money in a shoebox. A year later I'd saved up enough for a Bridgestone 450 with Sun Tour components –index shifting, 12 speed. I rode for several years in leather boat shoes (they fit in the toe clips), unpadded shorts, and a t-shirt. I rode everywhere. I lost like 85 pounds over two years. The 1990 Junior National Championship Time Trial was held just down the road from my house, so I volunteered. I met a young George Hincapie that day and people from a cycling club in San Antonio (SABRC). I joined the club and started doing some of their monthly time trials and soon had people offering to let me carpool to races with them, give me hand me down equipment, etc.
Eight years later I was a national champion racing in Holland and went on to race for the GoMart West Virginia Pro/Am team in 1999. At the end of that year I decided to go back to college and moved to Austin and finished a degree at UT. In 2000 I toured Western Europe for a few months by bike and then had an on and off kind of love/hate relationship with cycling and racing. I have a hard time just enjoying riding my bike for the sake of riding my bike. I think I just did it for too long with one goal in mind and it kinda blew it for me as a recreational means towards maintaining fitness. I like to run now. I suck at running and will never be good at running so I can't get worked up and start dreaming about running like a gazelle.
So I wasn't the only kid that saw that issue of Boy's Life! You're the promoter behind the world-famous, wildly successful "Driveway Bike Race Series." But what did you start with, road or 'cross?
AW: Cyclocross. I'd wanted to promote for a while and had been involved in a number of races. Rob Kane (then the TXBRA Vice President) suggested I start off with a 'cross race since the venues are contained/controlled, the attendance, at least in Texas, is smaller than a road event, making it more manageable for me as a first time promoter. He was right too. My first race was in 2007 at Pflugerville.
Bonnie, you've been officiating for 15 years. What makes officiating a 'cross race different than a road race?
BW: 'Cross races are a lot more relaxed and there are definitely no 60-rider fields sprinting for the finish—at least not in Texas!
Andrew, what about on the promotion side? Any differences catering to dedicated roadies vs. folks looking to race 'cross?
AW: Not really. Just little differences. Cyclocross folks want course videos/previews and roadies want to know if it'll be neutral wheels or wheels in wheels out, where's the feed zone, etc. All the differences, between catering to the riders or the events themselves are minor.
Which do you like more — be honest!
BW: I love the road, but by the time 'cross season rolls around I am more than ready for more of a low-key, relaxed atmosphere.
So that settles it. 'Cross is better than road.  Can y'all tell us a bit about the official Texas 'cross series and what else is there?
JD: Sure. There's really only one series here in Texas (ed. the Texas Cup). Well, two or three if you count non-sanctioned events, like the races in San Angelo. I think the state is ripe for a series within a series—like a regional-based set of races that offers overall prizes for people who race well in those events. We're lucky in that we don't need to worry about other state series dates, but when you think about the space between our larger cities it's like separate states up north.
CV: Texas 'cross racing is different than the rest of the country since we don't see a ton of mud. Races are fast and I think the promoters do great work with the courses they put together. The races and series look good this season with some new venues to change it up.
Andrew, is your race part of the Texas Cup Series?  What do you think of the Series?
AW: Yeah, part of the series. If you're not a part of it, it definitely hurts attendance. Other than that, I'm not really sure. I'm sure there are other ways to package it, slice it, dice it, whatever. My experience though is that no matter what you do, you're essentially making one group of people happy and another unhappy, so no matter what, someone is gonna be moaning about how it could be done better.
We may not need to worry about other states, but let's not forget, Texas is bigger than France! What are the difficulties in officiating in a state as big as Texas, Bonnie?
BW: You kind of answered your own question.  Texas is big. Travel takes it's toll, not only on the riders, but also the officials. 'Cross races are unique in that we usually officiate them with a smaller crew than road races so we can usually easily fill the crews with officials in the area of the race.  That helps.
What's the response been to the 2011 Texas Cup race calendar?
JD: I think people are excited, I know I am! Lots of events. I love the double weekends. It's going to make traveling with my young family a bit easier for all of us, especially when we get to go to places like Dallas and Houston where there are arts and museums to see after the races.
By most accounts, 'cross is growing everywhere.  From your perspective does that hold true in Texas?
BW: I believe so. While I doubt we'll ever see the numbers that you get in the Northeast or Northwest, our cross fields have been growing every year. Last season we consistently had close to or just over a 100 riders each race day.
AW: Yes, but probably slower here than elsewhere. That will probably always be the case. I think several things contribute to this. The first being the climate here. Let's face it, Texas is warm and dry for the most part. The temperatures are moderate here year round. The road season goes long and starts early here because of that. Roadies have no reason to mix it up with cyclocross in the off season because they can ride straight through the winter in shorts and jersey most of the time and they are tired of packing the car up and traveling to events.
Second, I hear Texas CX racers always talking about how things here need to be more like New England or Belgium. That's just not realistic. The temperatures are different here, the grass is different, the dirt is different, I'd go so far as to say the ground is harder here. Courses here will never quite ride like a New England or Belgian course and it will never feel that way either.  The attitude here I think can stifles growth. It's just uninviting I think for new racers and would be promoters to hear nothing but comparisons, and ironically, when it is cold and wet here, no one shows up, so go figure.
I think we need to embrace Texas CX and run with it, exploit the differences, make it unique and something people from other states want to come experience instead of trying to put a band-aid over it all and saying, this course is almost New England. No, it's not New England. It's Enchilada CX, it's hot and spicy and a bunch of sh*t all rolled into one large gluten free corn tortilla. Come on down to Texas, your taste buds will explode when you get a load of cyclocross here!
Many have done a good job with what they've had to work with. Every few years it seems the torch gets passed in Texas CX. Will Black, Rob Kane, Frank Karbarz, Cole Bewley, Andrew Stackhouse, and Mark Wiggans have all played a role in shaping Texas CX. There are others too but those are recent names that stick out to me. Bryan Fawley is currently the motivated guy doing a good job. He's passionate about the sport. He puts a lot into his events. He's really trying and tries to make his events fun, memorable, and unique.
Where can folks go to learn all things Texas Cyclocross?
JD: My blog! TexasCX.com. Tonight I just saw that there is another one started TX 'Cross. Plus there are the TXBRA forums, but those can be downright nasty at times. Anonymous comments and silly rants in the public forums are so 1993.
Joe, You've been a 'cross race promoter before.  Planning any race promotion in Texas?
JD: Is my wife going to read this? No, OK. (ed. Note, I did not forward this to Joe's wife.  Nor should you, the reader.) Yes, I'd love to be involved either in one event or in a series. I really enjoyed starting the Chicago Cross Cup and find I have good leadership skills that allow for important collaboration — that's the key. So we'll see. I'd love to host an event in a popular city park here in Austin for exposure of the sport. That would be rad.
What does the typically Texas 'cross race look like to you all?
JD: Whistle (or gun). Fast. Fast. Fast. Settle in. Calculate moves. Swear at the officials (what do you mean five more laps?). Grasp for breath. Overheat, dusty mouth. Beat everyone around you. Hope to not slip on the run up. Sand! Flocking sand. Barriers—off, over, on. Calculate. Sprint. Finish. Chat up friends, grab a cold one. Heckle time.
CV: Most Texas 'cross races actually have some decent elevation change that can take a toll over the course of a race. Last year was mostly dry and this year is shaping up that way. A couple years ago it was actually muddy for a number of the races.
Any opinions on the correct tire choice, air pressure — front and rear, and pedal choice for Texas racing?
JD: It's all personal preference. Last year I got some good advice from Craig and tried Challenge Fangos. They are perfect for me here in Texas, and just happened to be a great tubular to use when I traveled to race in the midwest with old friends. This year I'll be training on Challenge Grifos and will race the Fangos. I've had good luck with Small Block Eights and Muds, too.
Air pressure is also a matter of personal choice. I start the season high and judge the pressure by how close I am to bottoming out. Eventually it gets lower and lower as the season continues and I get more confidence. I'm 6'2″ and 180-190 on the bike, so the lowest I go with my tubulars is 32 lbs. Never that low when I ran tubes, usually 40 was the lowest. And, I'm one of the last people in the world who still likes TIME ATAC pedals — I mostly see the Candys.
CV: Now there are so many good choices. I found the Challenge Fango to be a great choice for most of the races in TX. Air pressure is highly personal and depends on your riding style and body weight. I can get away with 26-28 in the front and 28-30 in the rear. I like Shimano pedals.
What is the most important thing — or top three things — a new racer needs to be aware of?
JD: Good question. First, show up early and pre-ride the course. Second, practice as much as you can. Having solid 'cross-handling skills can help shave time for you in the race. Third, buy a cowbell and start rehearsing your best heckling material into a mirror!
CV: Just get out and race! Practice those dismounts and re-mounts! And, as a mechanic, a clean bike is a happy bike. Even after dry dusty races, I still clean my bike. Best performance is on clean equipment!
AW: 1) It's supposed to be fun. If you start getting all worked up over it, count to three and remind yourself, it's just not a big deal. 2) That's a urinal in the porta potty, not a helmet holder (yes, we had someone tell us at a race that it was so thoughtful of us to order potties with a helmet holder in them.) 3) Every course is gonna be different and some will suit you better than others. If a course doesn't suit you, that doesn't mean it was a crap race, that just means it suited someone else better than it suited you.
BW: Most off, have fun. After all, very few people are talented enough to make a career out of racing their bike but everyone can enjoy riding and racing in Texas.  Second, take the time to look at the rules for the discipline you plan on racing. While you may not know all the rules, it's a great start to understand some of them.  Finally, If you don't know, ask. Most people, including officials, are more than willing to help out.
Thank you all!  Texas Cup races started October 7 with the Crazy Water Cyclocross Festival in Mineral Wells, Texas.  Have a great season!