For many cyclocross racers, the love of racing is only  rivaled only by a passion for hand-crafted beer. Ty Kurth is no exception to this. Kurth traveled to the Westmalle Monastery, just north of Antwerp, Belgium, to witness the production of Trappist Ale firsthand.
by Ty Kurth
To this day, I remember the first time I learned about drinking fine crafted beer. The year was 1992; I was young and had been working for a liquor store in central Illinois. This liquor store was no Whole Foods or fine established alcohol store. This store was made for blue collar hard working folks. The store sold bulk beer by the truck load. My job, of course, was to keep the cooler stocked and to make sure the lager was cold. Then on one Friday night, these raggedy looking people started to come in by the boatload.
Come to find out, the Grateful Dead had just played a concert at Soldier Field in Chicago and now were heading down to St. Louis to play. The earthy people were only going to one cooler door that I never had to stock or face. This door harbored the import selection, including Guinness, Harp and Bass. These people were asking for cases and emptied out the store. I asked a certain eccentric man, "Why are you buying all this beer and why wouldn't you buy the domestic style beer? "
Going domestic made sense to me, as you could get three times as much beer for the price.
The fellow smirked and said calmly, "This is the handmade beer; we like this beer because it does not cause nasty hangover headaches and does not contain chemicals." From that point on, I never drank mass-produced beer.
To be truthful, I love beer! I am the guy buying all the Belgian single bottles and holding up the cashier line as other people look at me strangely. This might be as the total price usually comes to 60 dollars, and I may have only nine bottles of beer. Belgian beer, in my opinion, is the best. This is not a biased opinion, that my palate only craves these unique styles.
My overall favorite beer to drink is Westmalle Trappist Ale. The first time I had this Trappist style of beer was in April of 2008. The location was in Brussels, Belgium, and I just arrived after a grueling eight-hour flight. I arrived at my hotel, dumped my bags and bike and ventured out to explore. The time was 10 in the morning, but at home it was 3 in the morning. No restaurants were open, but I then came across a little café on the square. The café was great, there in the corner hoisted an old picture of Roger de Vlaeminck!
The maître d' asked in Flemish, "Hello, van wat zou u hoyden?"
I asked very humbly if he spoke English, in which he replied, "Ah American!" Then he told me that he would return. He returned with a goblet with the words Westmalle on it and smiled. He replied, "You will like it!"
The texture was so smooth and had at first a dry sweet taste. Usually I take time in drinking my beer, but in this case the liquid went down the gullet fast! The maître d' returned and said, "You must have Belgian in you!"
I smirked and said, "Why?"
"You like beer!" He then told me that having a great beer requires a visit to a great brewery. From that moment, I was recharged and had no jet lag. As my trip came to an end, on the last day I decided to journey to Westmalle Monasteries.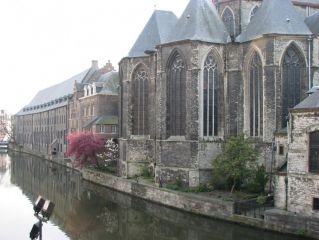 Westmalle's full name is Our Lady of the Sacred Heart. The monasteries sits behind elm trees and high walls in neat, flat countryside near the town of Westmalle, north of Antwerp. The monastery was founded in 1794, and is said to have been brewing beer for the monks' own consumption since 1836. The product was not sold until the 1870s, and initially only in the village. Most of the present abbey construction dates from around 1900.
A Trappist beer is brewed by or under the control of Trappist monks. There are to this day only seven breweries that are authorized to label their beers with the Authentic Trappist Product logo that indicates compliance to various rules dictated by the International Trappist Association.
These rules or criteria are as follows:
• The beer must be brewed within the walls of a Trappist abbey, by or under control of Trappist monks.
• The abbey, the choices of brewing and the commercial orientations must obviously depend on the monastic community.
• The financial purpose of the abbey must be directed toward assistance and not toward financial income.
The Westmalle abbey produces "Single", "Double", and "Triple" beers. The single is a golden style beer. It is very dry and, to my palate at the time I tasted it, had a slightly salty taste. I have read that the brewery's water is quite hard, which suits the paler ales. The single rarely makes it out of the abbey as it is only produced for the brothers' consumption.
The Dubbel has a dark malt and dark candy sugar. This beer has an alcohol content of 6.5 volumes. The color is a reddish dark brown in color; a supple body; and to my taste is malty and coffee-ish with hints of licorice and passion-fruit toward a dry finish.
The Tripel is made with pale candy sugar. Its famous golden color registers at 12 to 13 on the EBC scale or color of malt scale. The beer has a dense, white, head that leaves very full lacework. It's very aromatic, creamy in body with a banana-like, orangey, fruitiness in its deep, complex, taste. I have read that when the beer is young, the banana flavor can be too aggressive. With a little bottle age, the interplay between malt, hop and fruit is superb.
Westmalle can usually be found at your fine liquor stores and comes in either the small 11.7 oz bottles or the big 25.4 oz bottles. The 11.7 bottle will serve one and fill a goblet as the 25.4 will serve two. Goblet style glasses are available through the US importer Merchin Du Vin who can also help you locate a retailer of this fine crafted beer.
In conclusion, as I finished my delicious "Single or Extra" beer at the Westmalle Abbey, a monk who had served the beer told me this as I left, "Remember this, when you drink a Westmalle, you are drinking a beer with the lord!"
Reference: Michael Jackson, The Great Beers of Belgium, 1991