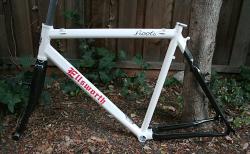 As manufacturers start to shift their focus to the cyclocross season, we've been getting a bunch of new product in for review. One item that we're about to test is the Ellsworth Roots 'cross frame. Ellsworth is known mostly as a mountain bike company, but it has had a 'cross frame since the mid-90's, well before most manufacturers hopped on the bandwagon. That version of the Roots was a very unique $2200 TIG-welded purple-anodized aluminum, Sachs New Success Ergolever-equipped and Rock Shox Paris Roubaix steered ride that showed off the company's mountain bike "roots."
After a seven year hiatus, Ellsworth re-introduced their Roots model last Interbike, and we've received a production model to ride.
The version of the frame is also TIG welded aluminum, but with a classy pearl white finish and a full carbon rear. While carbon seatstays are common on an aluminum 'cross bike, it's not often you see carbon chainstays, and Ellsworth spec'd carbon here to give a bit more forgiving ride. Another benefit to their carbon rear triangle is that it offers plenty of clearance for wider 'cross tires, a nice thoughtful touch for the southern California-based company.
Ellsworth offers the limited-production Roots model in six sizes: 48, 50, 52, 54, and 56 cm. While those choices may seem like they leave the taller folks short of options, they're measured approximately center to center, and our 52 cm frame sports a roomy 56.5 cm top tube (closer to a 56 cm frame from other brands).
On the scale, the frame weighs a reasonably light 3.4 pounds. The full-carbon fork weighs 500 grams and looks remarkably similar to a Ritchey WCS fork. The frame and fork retail for $999. Stay tuned for more impressions and more product highlights as we ramp up for the season.
For more info: www.ellsworthbikes.com