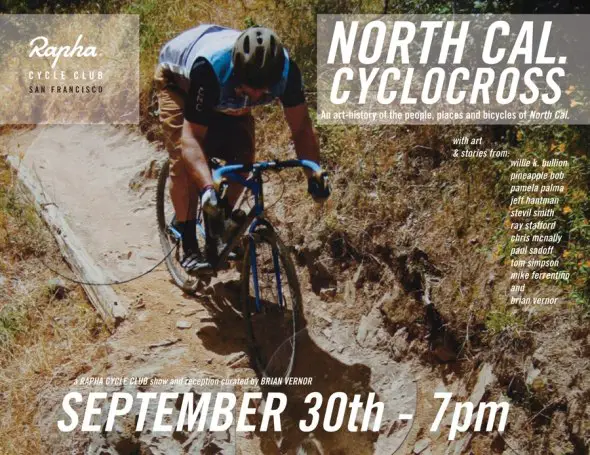 Brian Vernor has curated a unique show dedicated to the cyclocross community in Northern California. His write-up of the exhibit is as follows:
Uncle Charlie and Other Stories of North Cal. Cyclocross: An art show dedicated to the spirit of North Cal Cyclocross, its roots, and its current spectacle.
Featuring works of photography, writing, sculpture, painting, collage, as well as historical documents and images.
Curated by Brian Vernor and Presented by the Rapha Cycle Club SF.
Contributing Artists and story tellers: Willie K. Bullion, "Pineapple" Bob Kurasawa, Pamela Palma, Jeff Hantman, Stevil Smith, Ray Stafford, Chris McNally, Paul Sadoff, Tom Simpson, Mike Ferrentino, and Brian Vernor.
BIOS:
Pamela Palma's photography has appeared in the San Francisco Chronicle, Bike Monkey Magazine, National Geographic, FLYP , Gastronomica, and Meat Paper. Pamela currently lives in the Bay Area where she draws inspiration from local artists, cycling, and eccentric culture. Pamela resides in San Francisco, CA.
Stevil Smith, aka Drunkingham, makes art focusing on the underbelly of personal emotional dialog, primarily questions of his own physical abilities (or lack there of) and intellectual shortcomings. Coupled with an intense interest in the extremes to which people go to toward achieving satisfaction, be it physical, spiritual, emotional, or sexual. Stevil Also runs a popular cycling blog, All Hail The Black Market. Stevil resides in Soquel, CA.
Ray Stafford documented the North Cal. cyclocross scene from the mid-1970s through the 1980s. His Black and White photographs are some of the foundation for the history of American cyclocross racing. A former newspaper photographer, Ray currently resides in Las Vegas, NV.
Brian Vernor co-directed (with Willie K. Bullion) the first film about American cyclocross, Pure Sweet Hell. He also made the film Where Are You Go, about his 7,000 miles trek from Cairo to Cape Towne. His photography is well known throughout the cycling media and industry, including work with Rapha. He is a fourth-generation resident of Santa Cruz, CA."
The opening part is next Friday, September 30th at 7pm. We will have plenty of beer on hand, a Belgian waffle truck and the majority of the artists will be present. We feel very privileged to have a show with such a huge array of talent.