by Kevin Clark
After two straight weeks mostly flat, less-than-technical courses, the Chicago Cyclocross Cup returned to St. Charles and it's varied terrain. This is not to say that it was without its sections suited for power, but compared to Bartlett's windswept fury the week before, and Carpentersville's fast and flat event two weeks ago, this race had potential to shake things up amongst certain riders.
The weather was rather warm and dry, but a bit of moisture had permeated the ground, making for a few technical sections. It was actually very much the same course as last year, just run in reverse. The start/finish was relatively short going into a soft right then into the woods. Here, riders had to navigate embedded railroad ties on their way up to a single barrier then a staircase of sorts. The remainder of the racecourse featured two off camber switchback sections that proved to be quite difficult for some, along with a double barrier and another single, placed directly in front of a small creek bed. The consensus was that it was a very fun and well-put-together race.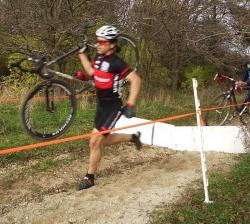 Local golden-boy Ben Popper (HRS/Rock Lobster) returned to see if he could reach the podium in a week off from chasing his first UCI point. After the tumultuous, yet utterly impressive turn of events that unfolded at race # 4 of the Cup in Carpentersville, there was no doubt in anyone's mind that Popper would be hungry for a win. Series leader, Scott McLaughlin (SRAM Factory Team), and Brian Conant (The Pony Shop) were poised for another attempt to fend him off.
Not having enough series points to get a call-up, Popper was situated in the 2nd row for the start and was sitting in 3rd going into the wooded section of the course. It was there where he would make his move and gain the lead position. His gap on the rest of the field was anywhere from 12 to 15 seconds thought the race, but McLaughlin and Wayne Simon (Verdigris) pushed his pace throughout the hour. Popper would go on to win, with Conant in a strong 2nd place finish and Simon in 3rd.
The 1/2/3 women were again dominated by Rebecca Much (xXx Racing Athletico) upon her return to the Chicago races, taking the same two weeks off as the men's winner. There's no doubt that her ability as a champion time trialist works to her benefit, but her bike handling skills are impressive as well – I witnessed first hand, as she passed me in the men's 3 race… again… despite starting 2 minutes later! Holly Klug (Killjoy) raced remarkably well and mechanical-free this week and brought her strong MTB skills to this technical course and to the podium for 2nd. Verdigris has made their presence as powerhouse local team known, as June Upshaw raced powerfully for the second week in a row, finishing 3rd.
As should be obvious to any lover of CX, the atmosphere was very festive. The men's 4 races were a great spectacle to behold. With their larger fields (large enough to split them into "A" and "B" categories) and the fact that they often deal with the course in its worst condition and the day's weather patter firmly in place, these races were prime for viewing pleasure. This, in combination with an enthusiastic showing in all Categories, is quickly making St. Charles the high point of the Chicago Cyclocross Cup's mid-season.