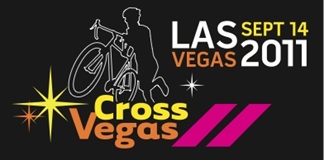 For the past few years, most of us in cross have viewed CrossVegas as the official kick off of the cyclocross season. And with Interbike remaining in Vegas for another year, 2011 looks to be no different. Below is the first news we've heard from promoters Watts Marketing Inc. The biggest news? Equal prize money for the Elite Women. In case you forgot how huge this race is, check out our coverage from 2010 CrossVegas.
Longmont, CO – CrossVegas uses the tagline "the international cyclocross season starts American Style in Las Vegas" and it seems more fitting each year. 2011 looks to be no exception with the announcement by the organizer that the fifth edition of the race will return September 14th.
The biggest cyclocross race outside of Europe is big by any measure, attracting almost 10,000 spectators to the Desert Breeze Soccer Complex in Las Vegas to watch athletes from 11 nations compete in 2010.
Among the developments for 2011 are:
Prize money for the top 5 spots in the Elite Women's category will equal the Elite Men.
CrossVegas will kick off the Cross After Dark series, a series of nighttime 'cross races that will link races in Seattle, St. Louis and Los Angeles in addition to Las Vegas.
Interest among European riders for CrossVegas has never been higher. CrossVegas is uniquely situated at the start of the international season making it an ideal time for European professional cyclocross racers to make a trip to the U.S. before the racing schedules in Europe make it almost impossible.
Race Director Brook Watts explained, "I was besieged by requests from European pros at the World Championships, all of the riders want to see what CrossVegas is all about, what the US cross scene is like and of course experience the entertainment capitol of the world – Las Vegas."
Victories by non-US riders in 2011 may have contributed to the increased international interest. Katerina Nash of the Czech Republic won the women's race in a solo effort while the men's race was captured by Francis Mourey of France in a final sprint to the line that left everyone amazed. Both winners parlayed their early season fitness into strong performances at the World Championships in January with Nash standing on the podium for bronze and Mourey just missing a podium spot with his 4th place finish.
Not all eyes will be on the pro racers. With CrossVegas taking place during Interbike, the return of the "Wheelers & Dealers" race is always welcome news. This battle for bragging rights among bicycle industry members has become one of the hottest features of the event.
About CrossVegas CrossVegas is organized by Watts Marketing Inc. of Longmont Colo. and has become a fixture on the US and international cyclocross calendar. Complete information is available at http://www.crossvegas.com or contact (303) 684-9170.