As we get ready for our in-depth and live coverage of the world championships this weekend, we're providing a series of worlds-related articles to get you ready as well. First up is a revisit of a very unique story we received in October on the men's defending champ and heavy favorite, Lars Boom: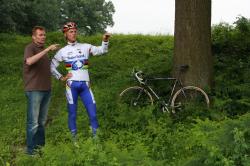 Lars Boom in Hoogerheide
by Rene van Hattum, photo by Henk Theuns
Lars Boom is 192 centimetres of Dutch pride with his blond hair and strong body. The rainbow jersey of the Cyclocross World Championships in Treviso does not cover a slender climber's chest, but clings to a muscular torso. The cycling shorts tightly cling to his thighs the size of beeches. Lars Boom, 22 years old, is the Dutch world champion embodied, with a mission: becoming cyclo-cross world champion on 1 February 2009 in his own country, in Hoogerheide in Brabant.
When he is testing a nasty, steep climb from the World Championships track, it looks as if  …continue reading Lars boom in Hoogerheide