Tim Johnson has had a long, storied 'cross career here in the states. The CyclocrossWorld – Cannondale rider has won almost every domestic race there is, and with all that success you would think that he's won a lot of national series titles as well. But since the Saturn Super Cup and the USGP series started, he's won only one – the U23 title in 1996, the first very first year of the Saturn series a dozen years ago. With a victory on Saturday's Day 1 of the USGP Portland Cup, he knew this year's USGP title was his to lose, but Johnson is not one to prematurely celebrate. He's held the leader's jersey on the last day of both the Saturn and USGP series before, only to lose it to a rival by the end of the day. This year, heading into the series finale, Johnson was seeking redemption for all those missed titles.
Ryan Trebon (Kona) seems to either dominate his rivals with going-away victories or suffer from last lap misfortunes in tight battles. After the last lap crash on Saturday blew his chances for the win and effectively ruined any chances at the series title, the Bend, Oregon native rider was seeking his own redemption.
Todd Wells (GT) simply had a bad day on Saturday and wanted his own confidence boost heading in to nationals. A first-lap tangle kept him from the front early on Saturday, but his legs wouldn't have kept him there anyway. He was clearly disappointed. "I came in with the series jersey. I knew it was going to be a long shot for me to keep it because once you drop a race, Timmy was ahead of me. But I was hoping to hold it through today but yesterday I had a bad day for whatever reason," he said.
Which rider would find redemption from their past disappointing performances?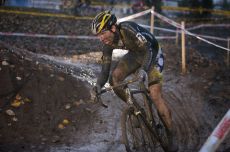 When the starting gun fired, Johnson and and Trebon's approach were as different as hot and cold. Johnson and teammate Jeremy Powers were fired up and started hot, with Powers leading the first half lap before Johnson took over and upped the pace, opening a slight gap on the others. Trebon didn't react; his motor wasn't warmed up yet.
"I was really cold for the first three laps," he recalls. "It took me a while to get my legs warmed up, as all that cold water and air on my legs was pretty horrible." When he would finally warm up, it would be horrible for the rest of the field.
With Johnson and Trebon setting pace, Todd Wells was content to follow, and while Powers dangled at the back of this group, a determined Troy Wells (Clif Bar) made his way through traffic to join the lead group and create a virtual team of brothers to offset the power play of the Cyclocrossworld – Cannondale riders. Shortly after the younger Wells joined the group, just one lap into the race, he attacked on the pavement and drew Powers out but the two would quickly pay for their efforts. Trebon was slowly warming up, and he quickly brought back the leading two and set a steady pace through the moto track that gapped both racers.
The leading three would ride another lap together, but Johnson was clearly on the defensive. Hitting the pavement stretch for just the second time, Trebon put the power down, gapping Johnson but drawing out a drafting Todd Wells. The two hit the dirt and motocross rollers together but Wells was already struggling. Behind, Johnson wouldn't give up. The national champion sailed through the barriers and quickly regained contact with Wells, but by this time, Trebon was finally warmed up. He attacked a slippery series of "horseshoe hills" with his long strides, and left the area with a gap that grow to be 10 seconds within a few turns.
Wells said he was feeling "back to normal" despite the sloppy conditions, and was surprised at the rapid surge of "Treefarm." He told Cyclocross Magazine, "I didn't expect Trebon to check out like that. I know he's capable of that, but this year he hasn't been winning by those huge margins but today he rode really strong."
While Trebon put the power down and pulled away from the remnants of the leading five, the U23 race unfolded. Nick Weighall (Rad Racing) was having a great ride just behind Troy Wells. He knew the U23 Leader's Jersey was within reach, and just needed to stay close behind his rivals to take the title. But he wasn't content to stay behind anyone, and despite fading a few spots in the day's overall race as elites Barry Wicks (Kona) and Andy Jacques-Maynes slipped by, Weighall had no problem winning the U23 sub-category and title in the process. He would finish a minute ahead of Summerhill and over four minutes ahead of series leader Mitchell Petersen (MonavieCannondale.com). Perennial contender Bjorn Selander (Ridley) couldn't shake his previous day's luck (with six mechanical-induced bike changes) and would as sixth U23 on the day. Southern California's Chance Noble (Cal Giant) rode well in the foreign-to-socal wet conditions, and landed on the podium in third.
As Trebon continued to stretch his gap to 30 seconds, Wells had a comfortable 25 seconds on Johnson. But Johnson, sensing it was his second-to-last 'cross race of the year, would go down firing. He put in a big effort and closed back in on Wells dramatically taking back 15 seconds within a lap. He'd run out of real estate though, and finished 10 seconds behind second.
Trebon was relaxed at the finished, and when asked about his race, described it as just "riding his bike around in the mud." Perhaps his mind was already on his post-race activities and his need for a costume to compete with Carl Decker's rumored elaborate costume plans for that night's Cross Crusade Prom. "Aww man, I haven't had a chance to do anything about a costume. Carl [Decker] has a lot more time than I have had recently, and I've been getting ready to go to Europe."
Tim Johnson was relieved and elated with his third place and series win. "This means more over my career than a lot of one-day race wins. I haven't been able to win the overall [since 1996 as an U23]," he lamented. "I've won the leader's jersey going into the last day a couple of times but I never really could pull it together to keep it."
Wells was happy with his race and the course. "The course was good for me," he explained. "It was pretty slick at first but as the race went on, it started to dry up. It was like peanut butter and had bigger ruts, and it was more of a power rider's course. Yesterday was fast."
With Trebon's dominating win, Wells' strong performance, and Johnson's long-awaited title win, the men atop the podium were both relieved and happy. Redemption was the one prize they could share.
See also: Women's Report | Live Race Coverage Archive | Day 2 Early Report and Photos | Day 1 Report
Photo Gallery by Joe Sales:
Full Results:
| | | | | | | |
| --- | --- | --- | --- | --- | --- | --- |
| Pos | Bib | U23 | Name | Team | Nat | Time |
| 1 | 3 | | TREBON Ryan | Kona | USA | 1:03:07 |
| 2 | 4 | | WELLS Todd | Team Gt | USA | 1:03:38 |
| 3 | 1 | | JOHNSON Timothy | Cyclocrossworld Cannondale | USA | 1:03:48 |
| 4 | 2 | | POWERS Jeremy | Cyclocrossworld Cannondale | USA | 1:05:22 |
| 5 | 6 | | WELLS Troy | Team Clif Bar | USA | 1:06:21 |
| 6 | 8 | | WICKS Barry | Kona | USA | 1:06:29 |
| 7 | 5 | | JACQUES-MAYNES Andy | California Giant Berry Farms/Specialized | USA | 1:06:49 |
| 8 | 12 | * | WEIGHALL Nicholas | Rad Racing/Hagens Berman | USA | 1:07:15 |
| 9 | 18 | * | SUMMERHILL Daniel | Team Clif Bar | USA | 1:08:08 |
| 10 | 10 | | TIMMERMAN Dan | Reynolds/Swan Cycles | USA | 1:08:39 |
| 11 | 21 | * | NOBLE Chance | California Giant | USA | 1:08:53 |
| 12 | 20 | | SHEPPARD Chris | Santa Cruz/Giro/Easton/ | CAN | 1:09:04 |
| 13 | 46 | | DECKER Carl | Giant | USA | 1:09:16 |
| 14 | 16 | * | MCGRATH Adam | Vandessel | USA | 1:09:22 |
| 15 | 49 | | WORAS Solomon | Vanilla | USA | 1:09:47 |
| 16 | 9 | | PARBO Joachim | Ccv Leopard Cycles | DEN | 1:09:59 |
| 17 | 29 | | SKERRITT Shannon | Vanilla Bicycles | USA | 1:10:22 |
| 18 | 43 | | HULICK Kevin | Vanilla Bicycles | USA | 1:10:22 |
| 19 | 32 | * | DALLE ANGELINI Gian | Team Redline | USA | 1:10:47 |
| 20 | 25 | | ROBINSON Justin | California Giant Berry Farms/Specialized | USA | 1:10:47 |
| 21 | 19 | | CAMERON Molly | Vanilla Bicycles! | USA | 1:10:50 |
| 22 | 53 | | LUELLING Brett | Capitol Subaru Cycling | USA | 1:11:18 |
| 23 | 17 | * | SELANDER Bjorn | Ridley Factory Team | USA | 1:11:19 |
| 24 | 31 | * | PETERSON Mitchell | Monaviecannondale.Com | USA | 1:11:39 |
| 25 | 24 | | BRADFORD-PARISH Kevin | Redline Bikes | USA | 1:11:50 |
| 26 | 57 | | PAXSON Spencer | Team S&M/Kona | USA | 1:11:50 |
| 27 | 26 | | BABCOCK Sean | Team S&M | USA | 1:11:55 |
| 28 | 23 | | MCKENZIE Drew | Straight Up Cycles/Argon18 | CAN | 1:12:42 |
| 29 | 41 | * | FERGUSON Jeremy | California Giant Berry Farms/Specialized | USA | 1:12:42 |
| 30 | 13 | | STEVENSON Russell | Redline Bikes | USA | -1 Lap |
| 31 | 35 | * | FISHER Steve | Rad Racing Nw | USA | -1 Lap |
| 32 | 62 | | SAGER Jason | Monavie/Cannondale | USA | -1 Lap |
| 33 | 42 | * | HACKWORTHY Dave | Ridley Factory Team | USA | -2 Laps |
| 34 | 54 | | HOLDEN Kristopher | Vertical Earth/Rotor | USA | -2 Laps |
| 35 | 47 | | POPPER Ben | Hrs / Rock Lobster | USA | -2 Laps |
| 36 | 56 | | BRENNER Joseph | Eschelon Elite | USA | -2 Laps |
| 37 | 28 | | IDDINGS Ryan | Lapierre Usa | USA | -2 Laps |
| 38 | 51 | | PARRISH Christopher | Hagens Berman Cycling | USA | -2 Laps |
| 39 | 60 | | FINN Justin | Spooky Bikes | USA | -2 Laps |
| 40 | 40 | * | BERRY Joshua | Team Bode | USA | -3 Laps |
| 41 | 34 | * | LLEWELLYN Andrew | Calistoga Racing Team | USA | -3 Laps |
| 42 | 36 | * | HOKE Mitchell | Clif Bar Development Cross Team | USA | -3 Laps |
| 43 | 39 | * | BANNERMAN Nathan | Bicycle Centres – Collision 1 | USA | -3 Laps |
| 44 | 33 | | HUNTER Steven | Veloshop | USA | -3 Laps |
| 45 | 52 | | YEATER David | River City Bicycles | USA | -3 Laps |
| 46 | 50 | | PLEWS Evan | Capitol Subaru Cycling/Scottusa | USA | -3 Laps |
| 47 | 58 | | CARLILE Scott | Tai Cycling/Hammer Nutrition | USA | -3 Laps |
| 48 | 55 | | DODGE Benjamin | Sugarcrm | USA | -4 Laps |
| DNF | 7 | | ANTHONY Jesse | Team Jamis Bikes | USA | DNF |
| DNF | 11 | | SHRIVER Matt | Uci Ct: The Jittery Joes Pro Cycling Team | USA | DNF |
| DNF | 14 | | JONES Christopher | Sonic/Louis Garneau/ Jittery Joes | USA | DNF |
| DNF | 15 | | TONKIN Erik | Kona | USA | DNF |
| DNF | 22 | * | KAPPIUS Braden | Clif Bar Development Cross Team | USA | DNF |