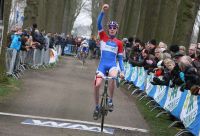 by Bart Hazen of The Daily Peloton
1st GP Richard Groenendaal – St. Michielsgestel: Beginners & Juniors

The big stars in the youth categories in the GP Richard Groenendaal were Danny van Poppel (Beginners) and Tijmen Eising (Juniors). Both showed once again they are the best rider of their categories.
Danny van Poppel, the son of former professional and top sprinter Jean-Paul van Poppel, dominated the younger race from start to finish and won with a lead of 38 seconds over Jeroen Meijers and Twan Brusselman who completed the podium.
In the Junior race it was Junior World Cup leader and Dutch National Champion Tijmen Eising who added another victory to his palmares. Eising had to start in the back of the field as he didn't collect much points in the national races. After a long chase he bridged up to the break with Lars van der Haar, Wietse Bosmans and Gert-Jan Bosman.
In the final Eising attacked and won with a lead of five seconds over Lars van der Haar and Belgian Wietse Bosmans. Tijmen Eising is the big favorite to prolong his national title in Huijbergen next weekend. Eric Emsky was the only American at the start and finished 18th, 2.27 down on the winner.
Also see our men's race report and women's race report.
Photo Gallery:
Results:
Juniors
1. Tijmen Eising (Ned) 39:25
2. Lars van der Haar (Ned) 0:05
3. Wietse Bosmans (Bel) 0:05
4. Gert-Jan Bosman (Ned) 0:09
5. Corne van Kessel (Ned) 0:33
6. Jelle Lugten (Ned) 0:42
7. Mike Teunissen (Ned) 0:56
8. Michiel van der Heijden (Ned) 1:03
9. Emiel Dolfsma (Ned) 1:16
10. Robin Wennekes (Ned) 1:23
11. Daan Meijers (Ned) 1:27
12. Bas Krauwel (Ned) 1:49
13. Dylan van Baarle (Ned) 1:52
14. Kay Welten (Ned) 1:56
15. Karl Hanik (Cze) 2:07
16. Milan van den Ende (Ned) 2:19
17. Erwin Broers (Ned) 2:27
18. Eric Emsky (USA) 2:27
19. Joey van Rhee (Ned) 3:03
20. Nick van Dijke (Ned) 3:16
Beginners
1. Danny van Poppel (Ned) 29:15
2. Jeroen Meijers (Ned) 0:38
3. Twan Brusselman (Ned) 0:38
4. Jaap de Man (Ned) 0:38
5. Douwe Verberne (Ned) 0:43
6. Erik Kramer (Ned) 1:03
7. Koen Weijers (Ned) 1:06
8. Kenny Kastelijn (Ned) 1:14
9. Mike Boer (Ned) 1:32
10. Dylan Groenewegen (Ned) 1:37