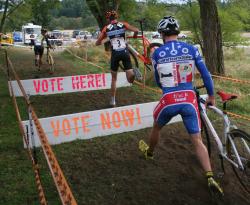 It's rare that you can get a few cyclocross-crazed racers at headquarters to admit that there might be more important things than getting your 'cross fix with Cyclocross Magazine, but today might be one of those days. If you live in the U.S. and haven't already, go vote.
If you've got time to read this, you can get to a polling location and make a difference in the local and presidential election.
We promise we'll be here when you get back and you don't have to sacrifice your 'cross cravings at all. In case you have to wait in line, bring a copy of Issue 4 with you, and hold it up high as you read it. The 100 page mag filled with 70+ pages of original, dirty, 'cross content should keep you entertained if there are long lines or malfunctioning machines (even if it's your third time reading the Sven Nys interview). And who knows, you just might recruit some new 'cross racers in the process when they see our cover shot of a muddy Treefarm racing his bike at night.
Still not convinced? Need more help and have questions? We've prepared a few FAQs to assist you:
Where is my polling place?
Check Vote411.org for your polling location.
Where can I view a sample ballot?
Vote411.org has links to view a sample ballot for your election.
I love cyclocross. Who should I vote for?
If you haven't decided by now, you're that rare, endangered and valuable "undecided" voter. Call up the campaigns and accept the highest offer. Then take that money donate it to support junior 'cross racing. Then do a little homework and make an informed decision.
Who are the folks behind Cyclocross Magazine voting for?
There are times we like both RED and BLUE in cyclocross. All we'll say is that when we vote, we're voting in support of all these people. Real people like "Beer Drinking Dad", "Better Than Aliens", and "Jake The Snake" – hard working people who have touched our hearts so deeply over the last 14 months of this long campaign.
I'm worried I'll miss out on cyclocross news and joy while voting. What should I do?
Ah, it's just 'cross. Wait, did we just say that? Shame on us, we take it back. Well, there are many options:
I'm pressed for time, and it's either get a training ride in or vote. What should I do?
BOTH. Try this. Go for a short training ride with your driver's license or other form of ID. Do some microbursts or something to get the intensity up, and the time down. Do it in the mud, get at least as muddy as this, and then go straight to the polls. We promise the workers will do everything they can to get you out of there as soon as possible. Trust us, we've tried it and it works.
I'm an undecided…I guess I'm sorta indecisive. How can I get help in making these crucial decisions?
Getting advice from others is always a good plan. Go to your polling location during the busiest period. Walk down the line and ask folks these important questions to help you make a choice:
Single ring or double?
Tubulars, clinchers, or tubeless?
Shimano, SRAM or Campy?
Should embrocation be legal? Do you embrocate yourself? Can you show me how?
I'm nervous about the election. What if it doesn't go like I want it to?
Call in sick and go for a long ride. When you get found out and fired from your job, come volunteer with us.