Fantasy Cyclocross Update – Week 8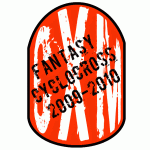 Despite scintillating racing in the United States, the only fantasy sanctioned race was the World Cup in Nommay, France. While in France, a number of streaks were extended, as both Neils Albert and Katie Compton each extended their World Cup win streak, with Albert barely out sprinting Zdenek Stybar to the line to take his third victory of the year, while Compton took her second straight and extended her World Cup lead. Marianne Vos returned to the World Cup scene by placing second in Nommay. Unfortunately, that was the only racing action on the weekend, as the Espoirs and Juniors had the weekend off.
Not surprisingly, Compton and Albert lead the way in the fantasy all-star team, with Zdenek Stybar and Marianne Vos each taking home their respective divisions. The all-star team on the weekend is as follows, with a total score of 384:
Zdenek Stybar (50), Neils Albert (60), Klaas Vantornout (8), Francis Mourey (32), Christian Heule (28), Katie Compton (60), Sanne Van Paassen (44), Marianne Vos (50), Katerina Nash (32), Caroline Mani (20)
Leading the way this week, marking a relative high with 354 points was BoogerBrigade (Mark LaLonde, USA), who set this season's mark for percent difference from the all-star team with a 7.8% difference, besting last week's 12.1% difference. It's also the first time that a professional rider has topped the weekly rankings! 32 points adrift from the lead, with 322 points was sandbaggers (Andrew Yee, USA), good enough for second. You can tell the game isn't actually fixed, as if it was, the magazine's publisher would have been in first! Also in second place was friend to Cyclocross Magazine, Doperssuck (Colt McElwaine, USA) who notched 322 points, which was also tied with kstatman (Kat Statman, USA). Third place, with 316 points, was Velo Club Moulin Feeder Squad (Martin Steele, UK).
Overall, CXecono (James-Ira Spencer, USA) assumed the overall lead with a whopping 1870 points, holding a slim 11 point lead over last week's leader, Barriers-n-Beer (LeRoi Smith, USA), who finished up the week with 1859. Third place was a bit farther back, with 1809 points, and belonged to Team BPCX (Brent Prenzlow, USA). This marks one week gone in our Win-November and with only one week to consider, BoogerBrigade is leading the charge. Only three weeks remain before our first prize payoff, so stay tuned!

Have you subscribed yet?
You're missing out if not. Get all-original content and your cyclocross fix throughout the year
with a subscription and Issue 23 back copy, with features on Lars van der Haar, Jonathan Page, Elle Anderson and more!