Fantasy Cyclocross Update – Week 7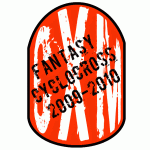 Fear that you've missed the boat with the whole fantasy thing this year? Fear not! If you haven't signed up yet, now is your chance, since we're offering a big time prize for the team that scores the most points in the month of November (Well, the 4 full weekends in November that is). If you've already signed up, you're already entered. Don't forget that you're only allowed one team, so signing up another team will end in deletion. Hurry over and sign up now!
Now, to business. We had a bunch of racing action, as the European talent headed to Hoogstraten for both a stop on the Superprestige circuit and, for the ladies and youngins in the crowd, the European Championships. Winners on the weekend were a dominant Neils Albert, who won the Superprestige stop, Marianne Vos, who took victory in the European Championships, Robert Gavenda, who was the Espoir victor at the European Championship, and Michiel Van der Heyden, who could only managed third in the European Championships, but was the highest placed rider in the game!
In America, the NACT swung into Coloardo for the Blue Sky Velo Cup and the Boulder Cup. Tim Johnson took a pair of wins in the men's race, and he was matched by Katie Compton, who took home a pair of wins in the Women's races. Cannondale/Cyclocrossworld.com completed back to back podium sweeps, by putting Jeremy Powers in second on both days and Jamey Driscoll in third on both days. The All-star team for the week, which scored a total of 381 points, is as follows:
Zdenek Stybar (25), Neils Albert (30), Klaas Vantornout (16), Tim Johnson (60), Jeremy Powers (50), Robert Gavenda (30), Michiel Van der Heyden (22), Katie Compton (60), Sanne Van Paassen (16), Marianne Vos (30), Georgia Gould (25), Katerina Nash (19)
Leading the week's charge this week was 10 Duvel Challenge (Anthony Carcella, USA) who nabbed 335 points, and was the closest anyone has come so far to matching the all-star score. There were two teams tied at 305 points on the week: ZB6 (Zach Bender, USA) and jdevarennes (Jason DeVarennes, USA). The biggest action, however, was in the third spot on the week, slotting in the 302 points. That's right. Bergen FK is lurking, and that's my crack team of cyclocross stars. After a slow start, Tim Johnson is finally coming to good, and I'm on the march! Also scoring 302 points, was kstatman (Kat Statman, USA), also good for third place.
Overall, Barriers-n-Beer (LeRoi Smith, USA) reassumed the lead of the game, with an even 1600 points. Team BPCX (Brent Prenzlow, USA) moved up into second place, carrying 1569 points, and third place belongs to CXecono (James-Ira Spencer, USA) who has 1568 points, not far out of first. Check below for up to the minute standings:

Have you subscribed yet?
You're missing out if not. Get all-original content and your cyclocross fix throughout the year
with a subscription and Issue 23 back copy, with features on Lars van der Haar, Jonathan Page, Elle Anderson and more!
WOW, I cant believe my team is ranked 7th. too cool!