Fantasy Cyclocross Update – Week 6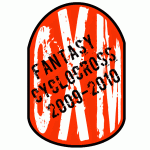 The cream of America's crop were back together over the last weekend, and a much anticipated rumble between Kona's Ryan Trebon and Barry Wicks and Cannondale/Cyclocrossworld.com's Tim Johnson, Jeremy Powers and Jamey Driscoll unfolded around the city of Louisville, Kentucky. Both Trebon and Johnson emerged with victories, but it was Driscoll who scored the second most points in America (two behind Johnson) thanks to two consecutive second placed finished, the second as part of a Cannondale/Cyclocrossworld.com podium sweep on Sunday. Katerina Nash was purely dominant, taking home both wins in Louisville, with only Amy Dombroski (RGM Watches-Richard Sachs-Radix) spoiling a Luna podium sweep.
In Europe, the fabled Koppenbergcross highlighted the weekend, as Sven Nys (Landbouwkrediet-Colnago) took home his seventh career victory atop the Koppenberg. Neils Albert (BKCP-Powerplus) took second place with Klaas Vantornout (Sunweb-Projob) in third. Pavla Havlikova (AVB Cycling Team) was the big winner on the women's side, as World Champion Marianne Vos (DSB Bank) suffered a double flat and pulled out. Kona's Helen Wyman wrapped up a strong weekend for the sqad with a second place. Robert Gavenda (Telnet-Fidea) was the big winner in the U23 category thanks to his win at the Koppenberg, while Cody Kaiser (Cal Giant-Specialized) and Yannick Eckmann (SV Kirchzarten) split the top honors in the junior category, taking a win and a second place each.
The all star team for the week is as follows, with a total score of 404 points:
Sven Nys (30), Neils Albert (25), Klaas Vantornout (22), Tim Johnson (52), Jeremy Powers (50), Robert Gavenda (30), Cody Kaiser/Yannick Eckmann (55), Sanne Van Paassen (6), Pavla Havlikova (30), Katerina Nash (60), Georgia Gould (44)
On the week, top honors went to Dirty South Bike Gang (Hunter, USA) who scored 303 points. Second place on the weekend went to SnowBalls (Snow Curmudgeon, Paraguay) who netted 288 points, not far off the leading clip. The final step on this week's podium went to MCV CT (Bryan McGill, USA) who pulled in 280 points.
Overall, Barriers-n-Beer (LeRoi Smith, USA) held on to the top spot on the leaderboard, holding 1336 points. Moving up the charts is Team BPCX (Brent Prenzlow, USA) who moved up to within 5 points of the overall lead, holding 1331 points on the season. Team War (Shawn Letson, USA) is still clinging to his claim in the top three, with 1330 points overall, keeping this race a close battle.
Don't forget to keep tabs on updated results, and it's never too late to sign up, so do so by clicking here!

Have you subscribed yet?
You're missing out if not. Get all-original content and your cyclocross fix throughout the year
with a subscription and Issue 23 back copy, with features on Lars van der Haar, Jonathan Page, Elle Anderson and more!