Fantasy Cyclocross Update – Week 21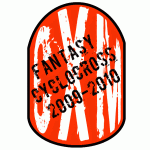 The buzz of the World Championships is finally settling down, and as a result of the requisite post-Worlds parties, Fantasy Cyclocross has two weeks worth of racing to Update. Undoubtedly you are all familiar with the big winners of the World Championships weekend, with Elite crowns awarded to the Czech Republic's Zdenek Stybar and the Netherlands' Marianne Vos, while the Espoir title went to Poland's Pawel Szczepaniak and the Junior title to the Czech Republic's Tomas Paprstka. Unsurprisingly, each of the four led the way in their respective categories in the All Star team for week 20.
This past weekend played host to rounds of the Superprestige, which took place in Zonhoven, and the Gazet Van Antwerpen Trofee, which stopped in Lille, Belgium for the Krawtencross. Sven Nys took home a pair of wins and secured the top spot in his category, while Marianne Vos again brought home a win in Sunday's GvA stop and secured her top spot, with no points on offer from the GvA. Riding to a win on Saturday and a third place on Sunday, U23 Jan Denuwelaere secured his first All Star point of the season, while David Van der Poel bounced back from an eighth place at the World Championships in Tabor with a win and a third place over the past weekend.
The World Championships produced the following All Star team, with a total point haul of 762 points:
Zdenek Stybar (90), Klaas Vantornout (75), Martin Bina (57), Francis Mourey (48), Pawel Szczepaniak (90), Tomas Paprstka (90), Hanka Kupfernagel (75), Christel Ferrier-Bruneau (42), Marianne Vos (90), Katerina Nash (57), Eva Lechner (48)
Following racing action in Week 21, the following All Star team produced a total of 369 points:
Sven Nys (60), Kevin Pauwels (44), Sven Vanthourenhout (26), Bart Aernouts (26), Radomir Simunek/Gerben de Knegt/Dieter Vanthourenhout (11), Jan Denuwelaere (52), David Van der Poel (52), Daphny Van den Brand (25), Sanne Van Paassen (19), Marianne Vos (30), Reza Hormes-Ravenstijn (14), Nicole De Bie-Leyton (10)
Following the World Championships, it was Sadists & Masochists (Gil Ormerod, USA) who finished off the weekend with 546 points. Nearly 50 points in arrears was Velrijden Velo (Anne Barnes, USA) who scored 498 points. Third place on the weekend went to ??? (Jeff Moote, Canada) who scored 483 points.
Following week 21, it was again Pedal Sports (Mike Davis, USA) who led the way, scoring 316 points on the weekend, further extending his lead in the overall competition. Second place went to HV River Rats (Cyclocrossfool, USA), who scored 299 points. The bronze medal for week 21 went to SwampThings (Marsh Jones, USA), who scored 287 points.
Overall, things look mostly said and done, with Pedal Sports leading the way with a more than comfortable 530 point lead, and a total of 7256 points. Second place belongs to Team Zoom (Jeff Hicks, USA), with a total of 6726 points. The final step on the podium is in the hands of Peanut's Peeps (Christine Vardaros), who has a total of 6438 points. The game is far from over, even though there are only two more weeks of racing remaining. First and second may be settled, the final spot on the podium is still very much up from grabs!

Have you subscribed yet?
You're missing out if not. Get all-original content and your cyclocross fix throughout the year
with a subscription and Issue 23 back copy, with features on Lars van der Haar, Jonathan Page, Elle Anderson and more!