Fantasy Cyclocross Update – Week 19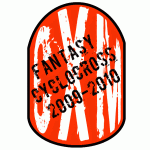 There was only one race on tap over the past weekend, with the final race in the UCI World Cup series closing out another fine World Cup season in Hoogerheide, the Netherlands. Neils Albert signaled his return to form by escaping from the rest of the pack to take his fourth World Cup win of the season. He couldn't, however, unseat World Cup overall winner Zdenek Stybar, who managed a second place and held on to his World Cup overall victory, and bagged himself a fat 100 bonus points.
On the women's side, Marianne Vos again took home victory in the ninth and final stop on the World Cup circuit, besting fellow Dutchwomen Sanne Van Paassen and Daphny Van den Brand. Despite her victory, Vos could not overtake Van den Brand on the World Cup overall standings, and it was Van den Brand who took home top series points. For the U23′s, Tom Meeusen was not able to take home another Espoirs victory, but he still managed to take home top points on the weekend, thanks to his second place finish, and sealed his World Cup overall victory. David Van der Poel used the last race on the World Cup circuit to take home the World Cup overall victory thanks to his win in Hoogerheide. Overall, the All-Star team amassed 522 points, and contained the following riders:
Zdenek Stybar (50), Neils Albert (60), Klaas Vantornout (38), Gerben de Knegt (24), Jonathan Page (20), Tom Meeusen (50), David Van der Poel (60), Daphny Van den Brand (44), Sanne Van Paassen (50), Marianne Vos (60), Katerina Nash (38), Eva Lechner (28)
On the week, it was Fantasy Cyclocross newboys Sadists & Masochists (Gil Ormerod, USA) who grabbed 426 points, good for first place. Second place went to Pieter uit Heenvliet (Petter, Netherlands) who scored 416 points. Third place went to Fantasy Cyclocross leader Pedal Sports (Mike Davis, USA), who managed 410 points on the week.
Overall, Pedal Sports extended their lead over the rest of the field, with a total of 6524 points on the year, giving him a 486 point cushion over Team Zoom (Jeff Hicks, USA), who has 6038 points on the season. The final spot on the podium belongs to Peanut's Peeps (Christine Vardaros), who have a total of 5847 points for the year. For more detailed standings, check out the following overall results:

Have you subscribed yet?
You're missing out if not. Get all-original content and your cyclocross fix throughout the year
with a subscription and Issue 23 back copy, with features on Lars van der Haar, Jonathan Page, Elle Anderson and more!