Fantasy Cyclocross Update – Week 15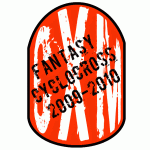 Christmas week began in Europe over the past week, and from here on it, all of the cycling world (at least those smart enough to avoid that Lance Armstrong guy) turns its collective attention to cyclocross in the lead up to the World Championships in Tabor. We had our first major mid week race on Wednesday in Middelkerke with the Noordzeecross. From there, the European cyclocross peloton headed to Zolder, Belgium for the seventh round of the UCI Cyclocross World cup. Sunday's Superprestige stop in Diegem wrapped a frenetic week in World cyclocross.
Wednesday's action was most kind to Sven Nys, who kicked off a strong week's worth of performances with a win in Middelkerke. Nys bested Tom Meeusen, a member of the Espoir's category, and demonstrated Belgium's complete dominance of the sport. Gianni Vermeerch won the day's only other race, taking home the Junior win.
As eyes turned to Zolder, David Van der Poel had the highest scoring day of the early races, finishing second in the Junior race, but netting the most points of Juniors involved in the game. Meeusen continued his unstoppable streak, taking home the Espoirs win. Marianne Vos outclassed Katie Compton for the win in the Women's field while it was Kevin Pauwels having a career defining ride in the Elite Men's event taking home top points.
Neils Albert fulfilled his duties in the rainbow jersey, taking home the Elite Men's win as the Superprestige series swung into Diegem. Meeusen took home his second win of the weekend in the Espoir's event while it was Van der Poel again missing out on victory, but taking home the most points on the day for the Juniors thanks to his fourth place finish. All told, the All-Star team scored 672 points and was made up of the following riders:
Sven Nys (74), Kevin Pauwels (82), Klaas Vantornout (60), Gerben de Knegt (57), Radomir Simunek (38), Tom Meeusen (115), David Van der Poel (72), Katie Compton (50), Sanne Van Paassen (32), Marianne Vos (60), Caroline Mani (20), Eva Lechner (12)
On the week, the top score went to league new roxiepoxie (Katie Sullivan, USA), who scored 630 points in her first week in the league! Second and third went to the heads of the Fantasy Cyclocross state, with Team Zoom (Jeff Hicks, USA) pulling up second with 577 points, and Pedal Sports (Mike Davis, USA) grabbing 565 points in third.
For December, Pedal Sports continues to lead the way with 1578 points. Second place belongs to Team Zoom, who has a total of 1500 points. Third place belongs to Hooligans 2 (Adam Leman (USA), who holds 1392 points.
Overall, Pedal Sports continues to lead, with a grand total of 4519 points. Second place rests on the shoulders of Peanut's Peeps (Christine Vardaros, Belgium), who again is in the runner up position with 4403 points. Third place was again narrowly defended by Bergen FK (Jake Sisson, USA) with 4232 points.
Check back at the end of this week, as we'll crown our December winner!

Have you subscribed yet?
You're missing out if not. Get all-original content and your cyclocross fix throughout the year
with a subscription and Issue 23 back copy, with features on Lars van der Haar, Jonathan Page, Elle Anderson and more!