Fantasy Cyclocross Update – Week 14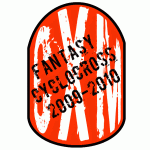 We've officially moved into the most critical time in international cyclocross, late December and January. You can tell that cyclocross has begun to become more and more important now that we're starting to see mid-week racing. This week, we saw some Thursday action, with racing in Antwerp at the Scheldecross. From there, focus shifted to Kalmthout, Belgium for the year's sixth World Cup stop. The big winner on the week was Belgium's cyclocros champion, Sven Nys who took home both wins. Just behind him was Belgian Espoir Tom Meeusen who finished his day in Antwerp in second – in the Elite race – and won the World Cup stop in the Espoirs category.
Daphny Van den Brand, the Dutch cyclocross champion, is starting to find her best form this year, and took two commanding wins in both Antwerp and Kalmthout. In the Junior event, it was David Van der Poel another World Cup win in Kalmthout to add to his impressive palmares from 2009. The All-Star team for the week scored 623 points and contained the following riders:
Sven Nys (90), Neils Albert (56), Klaas Vantornout (38), Bart Aernouts (34), Gerben de Knegt & Martin Bina (28), Tom Meeusen (85), David Van der Poel (60), Daphny Van den Brand (90), Sanne Van Paassen (46), Sanne Cant (57), Caroline Mani (20), Reza Hormes-Ravenstijn (19).
Pedal Sports (Mike Davis, USA) continues to ride a strong set of European riders to the top score of the week. The team scored a total of 549 points on the week, 37 points clear of the rest of the pack. Second place went to Team Zoom (Jeff Hicks, USA) who scored a total of 512 points in week 14. Another 32 points behind was 7hr (Mike Otting, USA) who scored a total of 480 points.
In our monthly contest for the month of December, Pedal Sports is well ahead of the field in first, having scored 1013 in the month of December. Second place, 90 points behind, belongs to Team Zoom, who has a total of 923 points. Third place belongs to 10 Duvel Challenge (Anthony Carcella, USA) with 887 points.
Overall, Pedal Sports took over the top spot in the contest with a total of 3948 points. Peanut's Peeps (Christine Vardaros, Belgium), who had been in the game's top spot for some time now, slipped to second place this week, hanging on to 3888 points. Third place belongs to Bergen FK (Jake Sisson, USA) who is holding on to a total of 3716 points.

Have you subscribed yet?
You're missing out if not. Get all-original content and your cyclocross fix throughout the year
with a subscription and Issue 23 back copy, with features on Lars van der Haar, Jonathan Page, Elle Anderson and more!