Fantasy Cyclocross Update – Week 12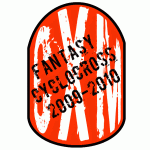 While the American cyclocross calendar is drawing nearer and nearer to its close, the European calendar is just heating up. The Portland Cup was the final major two race weekend in America, and it provided the fireworks that it had promised. Thousands of miles away, the top end of Europe's talent was in Igorre, Spain, where it was only the men who were privy to a World Cup event. In, Portland, Todd Wells and Jeremy Powers split the wins between them, while Katerina Nash proved why she has a legitimate shot at both a Czech and a World Title in only a matter of months. In Spain, Zdenek Stybar benefited from an unfortunately placed lapped rider that held up Sven Nys and Neils Albert and allowed Stybar to escape to victory.
Unfortunately, since there was no European racing action for Women, Espoirs or Juniors, the All-Star team was made up of mainly American talent, as it was Cody Kaiser who grabbed the bonus point for the Juniors and Danny Summerhill grabbed the extra score for the Espoirs. The All-Star team managed a score of 422 points, and was made up of the following riders:
Zdenek Stybar (60), Neils Albert (50), Klaas Vantornout (38), Jeremy Powers (55), Todd Wells (55), Daniel Summerhill (20), Cody Kaiser (60), Katerina Nash (60), Sue Butler (24)
Don't forget that this is the first week of the December Fantasy giveaway! Week 12′s weekly standings also represent the overall standings for the December contest! If you haven't yet signed up, sign up now to be included! Week 12′s big winner was Team War (Shawn Letson, USA), with a weekly total of 316 points. Second place went to Dirty South Bike Gang (Hunter, USA), who grabbed 315 points during the week, agonizingly close to victory. In third was 10 Duvel Challenge (Anthony Carcella, USA), who was only two points off the pace with 314 points!
For the second weekend in a row, Peanut's Peeps (Christine Vardaros, Belgium) held the game's top spot, extending her lead to 112 points, with a total of 3218 points. Second place belongs to Pedal Sports (Mike Davis, USA), who has 3106 points. Not far behind is CXecono (James-Ira Spencer, USA), who has 3103 points. In a truly unacceptable turn of events, Bergen FK (Jake Sisson, USA) fell to fourth with 3082 points. Don't worry folks, I'll be back!

Have you subscribed yet?
You're missing out if not. Get all-original content and your cyclocross fix throughout the year
with a subscription and Issue 23 back copy, with features on Lars van der Haar, Jonathan Page, Elle Anderson and more!