Fantasy Cyclocross Update – Week 11 & Another Chance to Enter and Win Prizes!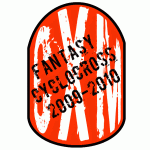 Did you miss out on Fantasy Cyclocross' November giveaway? Fear not folks, even if you weren't Pedal Sports (Mike Davis, USA), who's team scored the most points in the month of November, with 1477 and won himself a pair of Briko Prowler sunglasses, you now have the chance to get back on the ball in December. This month, we'll be giving away two $50 gift certificates to Sportsbasement.com to the team that scores the most in December and the best team during the Christmas week in Belgium! To take full advantage of this opportunity, make sure your entry is submitted by the time racing at day one of the Portland Cup commences at 4:30 on Saturday. Fill out the entry form below to sign up. If you've already signed up for the game, you're already entered!
Over the past week, with only European racing counting towards your fantasy total, it was a good weekend to have the cream of the European crop on your side. Saturday's big winners included Zdenek Stybar, Marianne Vos, Tom Meeusen and Michiel Van der Heyden, who all (except for Van der Heyden) won their respective categories at the Koksijde World Cup. On Sunday, Sven Nys made up for missing out on the victory a day earlier, and squeaked into the All-Star spot with 80 points on the weekend. Daphny Van den Brand also went went one better with a win at the Superprestige in Gieten. The All-Star team for the week is as follows with a total score of 695, far and away the biggest score of this season.
Sven Nys (80), Neils Albert (60), Klaas Vantornout (58), Bart Aernouts (44), Francis Mourey (40), Tom Meeusen (80), David Van der Poel (74), Daphny Van den Brand (80), Sanne Van Paassen (54), Marianne Vos (85), Linda Van Rijen (20), Reza Hormes-Ravenstijn (20)
The big winner on the weekend was Pedal Sports (Mike Davis, USA), who won by a fair clip, raking in 615 points. A full 52 points behind was CycloBadger (Mark Badger, USA), who netted 563 points over the weekend. Rounding out the week's podium was Team Zoom (Jeff Hicks, USA), which grabbed 546 points.
Overall, Peanut's Peeps (Christine Vardaros, Belgium) rode another strong weekend to move into first with 2990 points overall. This marks the first time in the history of the game that a professional cyclist has taken control of the overall standings! Despite that momentous occasion, Bergen FK (Jake Sisson, USA) is lurking in second with 2899 points. Why does that name ring a bell… Hey! Wait a minute! That's me! The overall podium is filled out by Pedal Sports with 2888 points, and funny enough, right behind him is Cyclocross Magazine publisher Andrew Yee's Sandbaggers team.
In November, Pedal Sports rode a series of strong weekends to the victory with 1477 points. Team Zoom was second with 1415 while it was Peanut's Peeps who grabbed third place with 1413. To the victor goes the spoils, and to this victor goes a pair of Briko Prowler sunglasses. Want to be like Mike Davis – who had his name in all three competitions this week? Sign up for the December action below!

Have you subscribed yet?
You're missing out if not. Get all-original content and your cyclocross fix throughout the year
with a subscription and Issue 23 back copy, with features on Lars van der Haar, Jonathan Page, Elle Anderson and more!